Gathered form the web site of:
https://en.wikipedia.org/wiki/Ankara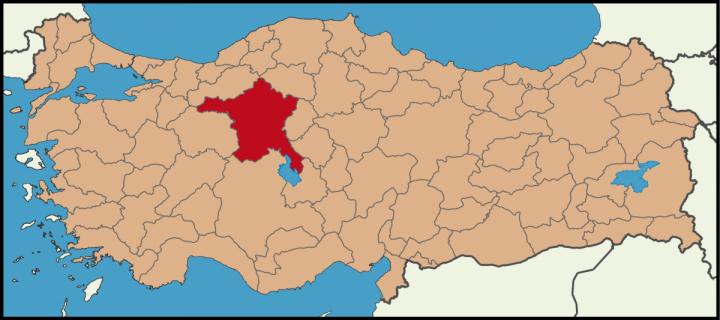 Ankara, formerly known as Ancyra and Angora, is the capital of Turkey, located in Central Anatolia. With a population of 4,587,558 in the urban center (2014) and 5,150,072 in its province (2015),[1] it is Turkey's second largest citybehind Istanbul.
Ankara was Atatürk's headquarters from 1920 and has been the capital of the Republic of Turkey since its founding in 1923, replacingIstanbul following the fall of the Ottoman Empire. The government is a prominent employer but Ankara is also an important commercial and industrial city, located at the center of Turkey's road and railway networks. The city gave its name to the Angora wool shorn from Angora rabbits, the long-haired Angora goat (the source of mohair), and the Angora cat. The area is also known for its pears, honey, and muscatgrapes. Although situated in one of the driest places of Turkey and surrounded mostly by steppe vegetation except for the forested areas on the southern periphery, Ankara can be considered a green city in terms of green areas per inhabitant, at 72 m2 per head.[3]
Ankara is a very old city with various Hittite, Phrygian, Hellenistic, Roman, Byzantine, and Ottoman archaeological sites. The historical center of town is a rocky hill rising 150 m (500 ft) over the left bank of the Ankara Çayı, a tributary of the Sakarya River, the classical Sangarius. The hill remains crowned by the ruins of the old citadel. Although few of its outworks have survived, there are well-preserved examples of Romanand Ottoman architecture throughout the city, the most remarkable being the 20 bc Temple of Augustus and Rome that boasts theMonumentum Ancyranum, the inscription recording the Res Gestae Divi Augusti.[4Climate
Ankara has a hot-summer continental climate (Dsa). Due to its elevation and inland location, Ankara has cold, snowy winters and hot, dry summers. Rainfall occurs mostly during the spring and autumn. Under Köppen climate classification, Ankara borders on a dry summer continental climate with a warm summer subtype (Dsb), and is near the borderline of a cold semi-arid climate (BSk), with some regions of the province having a true warm summer subtype (Dsb) of continental climate, depending on elevation.[19] Because of Ankara's high altitude and its dry summers, nightly temperatures in the summer months are cool. Ankara lies in USDA Hardiness zone 7b. Ankara's annual average precipitation is fairly low at 408 millimeters (16 in), nevertheless precipitation can be observed throughout the year. Monthly mean temperatures range from 0.3 °C (32.5 °F) in January to 23.5 °C (74.3 °F) in July, with an annual mean of 12.02 °C (53.6 °F).
Record rain= 88.9 kg/m2 (11.06.1997)
Record snow= 30.0 cm (11.8 in) (05.01.2002)
Climate data for Ankara (1954–2013)

Month

Jan

Feb

Mar

Apr

May

Jun

Jul

Aug

Sep

Oct

Nov

Dec

Year

Record high °C (°F)

16.6
(61.9)

20.4
(68.7)

27.4
(81.3)

31.1
(88)

33.0
(91.4)

37.0
(98.6)

41.0
(105.8)

40.4
(104.7)

36.0
(96.8)

33.3
(91.9)

24.4
(75.9)

20.4
(68.7)

41
(105.8)

Average high °C (°F)

3.9
(39)

6.7
(44.1)

12.2
(54)

17.5
(63.5)

22.2
(72)

26.5
(79.7)

30.2
(86.4)

29.7
(85.5)

25.9
(78.6)

19.8
(67.6)

13.3
(55.9)

6.5
(43.7)

17.8
(64)

Daily mean °C (°F)

0.0
(32)

1.9
(35.4)

6.1
(43)

11.1
(52)

15.4
(59.7)

19.1
(66.4)

22.4
(72.3)

21.8
(71.2)

18.0
(64.4)

12.5
(54.5)

7.3
(45.1)

2.6
(36.7)

11.6
(52.9)

Average low °C (°F)

−3.9
(25)

−2.1
(28.2)

0.6
(33.1)

4.8
(40.6)

8.6
(47.5)

11.7
(53.1)

16.0
(60.8)

14.6
(58.3)

11.7
(53.1)

5.3
(41.5)

1.4
(34.5)

−1.6
(29.1)

6.4
(43.5)

Record low °C (°F)

−31.2
(−24.2)

−21.5
(−6.7)

−19.2
(−2.6)

−6.7
(19.9)

−1.6
(29.1)

3.8
(38.8)

4.5
(40.1)

6.3
(43.3)

2.5
(36.5)

−4.1
(24.6)

−10.5
(13.1)

−17.2
(1)

−31.2
(−24.2)

Average precipitation mm (inches)

42.2
(1.661)

37.0
(1.457)

38.8
(1.528)

47.7
(1.878)

49.7
(1.957)

35.0
(1.378)

14.5
(0.571)

10.5
(0.413)

19.2
(0.756)

29.4
(1.157)

32.6
(1.283)

45.4
(1.787)

402
(15.826)

Average precipitation days

12.2

11.0

10.9

11.9

12.5

8.6

3.7

2.8

3.9

6.8

8.5

11.8

104.6

Mean monthly sunshine hours

77.5

98.9

161.2

189.0

260.4

306.0

350.3

328.6

276.0

198.4

132.0

71.3

2,449.6

Demographics
Ankara metropolitan area
Ankara had a population of 75,000 in 1927. In 2013, Ankara Province has a population of 5,045,083 of which 2,507,525 are men and 2,537,558 are women.[21]
When Ankara became the capital of the Republic of Turkey in 1923, it was designated as a planned city for 500,000 future inhabitants. During the 1920s, 1930s and 1940s, the city grew in a planned and orderly pace. However, from the 1950s onward, the city grew much faster than envisioned, because unemployment and poverty forced people to migrate from the countryside into the city in order to seek a better standard of living. As a result, many illegal houses called gecekondu were built around the city, causing the unplanned and uncontrolled urban landscape of Ankara, as not enough planned housing could be built fast enough. Although precariously built, the vast majority of them have electricity, running water and modern household amenities.
Nevertheless, many of these gecekondus have been replaced by huge public housing projects in the form of tower blocks such as Elvankent, Eryaman andGüzelkent; and also as mass housing compounds for military and civil service accommodation. Although many gecekondus still remain, they too are gradually being replaced by mass housing compounds, as empty land plots in the city of Ankara for new construction projects are becoming impossible to find.Main sights
Museums
There are about 50 museums in the city.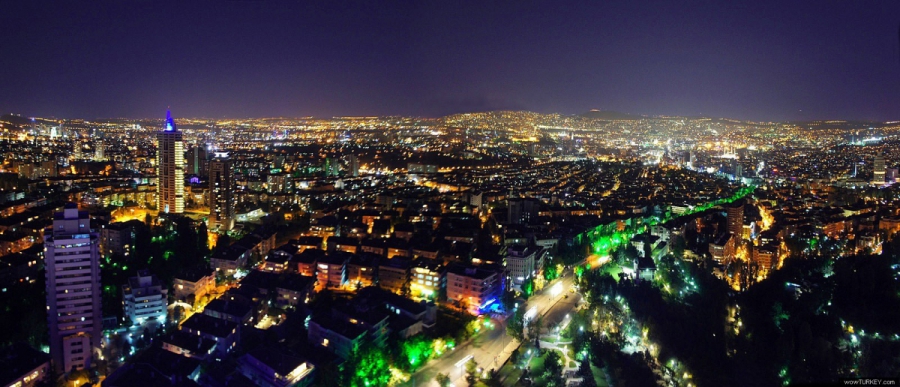 Anıtkabir
Anıtkabir is located on an imposing hill, which forms the Anıttepe quarter of the city, where the mausoleum of Mustafa Kemal Atatürk, founder of the Republic of Turkey, stands. Completed in 1953, it is an impressive fusion of ancient and modern architectural styles. An adjacent museum houses a wax statue of Atatürk, his writings, letters and personal items, as well as an exhibition of photographs recording important moments in his life and during the establishment of the Republic. Anıtkabir is open every day, while the adjacent museum is open every day except Mondays.A panorama of Atatürk's Mausoleum. It is the most popular sight of Ankara.
Ankara Ethnography Museum
1st:Ethnography Museum (1928)
2nd:State Art and Sculpture Museum (1930)
3rd:Museum of Anatolian Civilizations (1921)
4th:METU Science and Technology Museum (2003)
Ankara Ethnography Museum (Etnoğrafya Müzesi) is located opposite to the Ankara Opera House on Talat Paşa Boulevard, in the Ulus district. There is a fine collection of folkloric items, as well as artifacts from the Seljuk and Ottoman periods. In front of the museum building, there is a marble and bronzeequestrian statue of Mustafa Kemal Atatürk (who wears a Republic era modern military uniform, with the rank Field Marshal) which was crafted in 1927 by the renowned Italian sculptor Pietro Canonica.
Museum of Anatolian Civilizations
The Museum of Anatolian Civilizations (Anadolu Medeniyetleri Müzesi) is situated at the entrance of the Ankara Castle. It is an old bedesten (covered bazaar) that has been beautifully restored and now houses a unique collection of Paleolithic, Neolithic, Hatti, Hittite, Phrygian, Urartian, and Romanworks as well as a major section dedicated to Lydian treasures.
State Art and Sculpture Museum
The State Art and Sculpture Museum (Resim-Heykel Müzesi) is close to the Ethnography Museum and houses a rich collection of Turkish art from the late 19th century to the present day. There are also galleries which host guest exhibitions.
Cer Modern
Cer Modern is the modern-arts museum of Ankara, inaugurated on 1 April 2010. It is situated in the renovated building of the historic TCDD Cer Atölyeleri, formerly a workshop of the Turkish State Railways. The museum incorporates the largest exhibition hall in Turkey. The museum holds periodic exhibitions of modern and contemporary art as well as hosting other contemporary arts events.
War of Independence Museum
The War of Independence Museum (Kurtuluş Savaşı Müzesi) is located on Ulus Square. It was originally the first Parliament building (TBMM) of the Republic of Turkey. The War of Independence was planned and directed here as recorded in various photographs and items presently on exhibition. In another display, wax figures of former presidents of the Republic of Turkey are on exhibit.
Mehmet Akif Literature Museum Library
The Mehmet Akif Literature Museum Library is a literary museum and archive opened in 2011 and dedicated to Mehmet Akif Ersoy (1873–1936), the poet of the Turkish National Anthem.
TCDD Open Air Steam Locomotive Museum

The TCDD Open Air Steam Locomotive Museum is an open-air museum which traces the history of steam locomotives.
Ankara Aviation Museum
Ankara Aviation Museum (Hava Kuvvetleri Müzesi Komutanlığı) is located near the Istanbul Road in Etimesgut. It is home to various missiles, avionics, aviation materials and aircraft that have served in the Turkish Air Force (e.g. combat aircraft such as the F-86 Sabre, F-100 Super Sabre, F-102 Delta Dagger, F-104 Starfighter, F-5 Freedom Fighter, F-4 Phantom; and cargo planes such as the Transall C-160.) Also a Hungarian MiG-21, a Pakistani MiG-19, and a Bulgarian MiG-17 are on display at the museum.
METU Science and Technology Museum
The METU Science and Technology Museum (ODTÜ Bilim ve Teknoloji Müzesi) is located inside the Middle East Technical University campus.
For Additional Information Click the Link Below: